Background

anet Bright is an accomplished Canadian artist as well as an avid arts advocate with a keen visual sense.
The Approach
To date, Janet's paintings have been the star, but as her engagement with the public increases to include newspaper interviews and speaking engagements, it became obvious that it was time to amp up her personal brand. Janet will also be attending the Banff Artist In Residency (BAIR) Winter Program in March 2012, so we knew her branding needing to be in place and ready to wow quickly.
My vision was to create a cohesive re-branding strategy to bridge all the elements of Janet; artist, business person, fitness buff, and parent. All these sides come together more than ever with her increased online presence through her website, Twitter and Facebook.
Previously, her main publicity photo captured her demure and elegant artist self in the style of a portrait, however I felt that we needed colour and emotion to really bring her brand to full effect.
Analysis of Janet's Brand Strengths
Janet and I followed my Branding Process, and during the process I didn't have to look far to gather what I needed. She was a walking brand sandwich board already! Polished, poised, self aware, fit, and with a self-assurance that might make one assume she grew up as the daughter of a diplomat. After talking with her for a bit about her exemplary posture, she confirmed that she spent her childhood committed to gymnastics – that explains it!
In advertising we refer to Janet as 'aspirational'. She exudes a fun and has such an open confidence that you deem her an expert on all levels of being human, and you trust and like her. This is the ultimate brand. All we needed to do was to convey this fully, and we would succeed with all of her audiences from business to personal.
The Brand Stories
We decided on fashion and celebrity photographer Matt Haylett to do the shoot for Janet's Brand Story Kit. She was able to source some clothes from her closet, and bought others new for the shoot. Janet had her hair done that morning and brought a makeup artist to the set to help her transition through all of the looks – from the natural to the high glam.
In talking with Janet, I helped her identify some elements that remain consistent and true, regardless of her Brand Story:
Core Truths
Integrity
Trustworthy
Forward Thinker
Disciplined
&nbsp:
Passion Points
Art
Health & Wellness
Observation
Visual Execution
Consistent Threads
Sincerity
Grounded Calm
Excellent Posture
Light in Eyes
&nbsp:
Unique Style Signature
Classic tailoring with an insert of modern pop, such as statement accessories like a bold ring, watch, necklace, bracelet, or cuff
Crisp lines
Well ironed clothes
Necklines that show collar bone or are plunging
Subtle patterns
Not afraid to mix it up
1. NYC Art Gallery Owner
The Truth Line: "I am dedicated to my gallery; I am confident in my ability to choose fresh new artists; I am the Anna Wintour of the art world and love it all."
2. Friday Night Gala
The Truth Line: "I am confident in my body; I am proud of where I am at; I am ready to own the room tonight."
3. Bliss Woman
The Truth Line: "I value my me time; I feel great; I am dedicated to balance and harmony."
4. Best Friend
The Truth Line: "I am happy with my kids, home and life. I love nothing more than a glass of wine with my two best friends. I am not afraid to tell it like it is; they will ask me for advice before they go their own doctor!"
The Final Results
Janet's photos turned out beautifully, and we had many amazing options to chose from. She fully committed to her key truths and they shone through. This was Janet's first professional photo shoot before, so these results were truly remarkable, but not uncommon when someone understands the brand and the emotion behind it, and the photographer is committed to the same vision. Once you have that understanding and commitment, the rest is all about relaxing and having fun with it.
Janet's Testimonial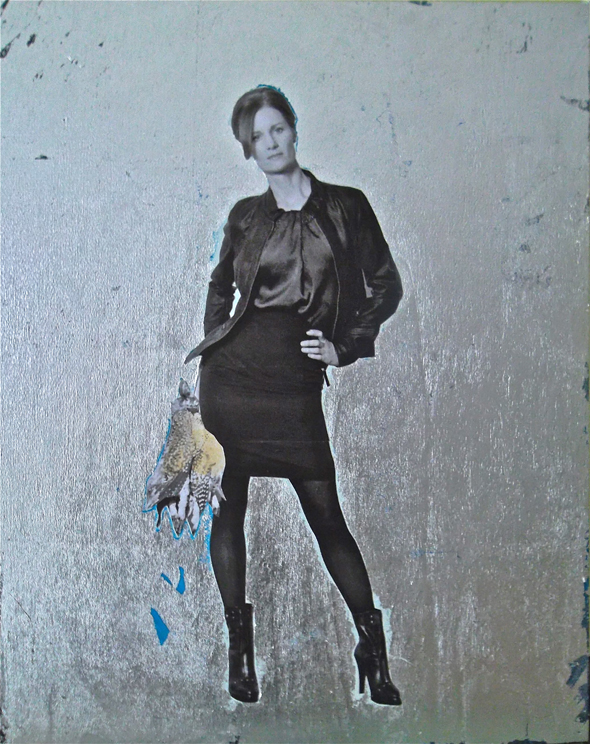 My Brand-Build photos speak for themselves! Pamela's intuition, years of experience and unique Brand Building template clarified, defined and refined a media brand for me that was spot on and it shows. The storyboard identities she created exemplify who I am and how I wish to be perceived. Thank you, Pamela! I look forward to many more great experiences with you. "
This Image was inspired by our brand story.
'the pheasants'
/ 16″ x 20″ / Panel 2 of 2, Photo Image, Paint and Silver Leaf on Wood Panel.